The Value of Portrait Photography
Have you ever wondered why great portrait photography costs as much as it does? So often photographers hear people say things like "WOW! That's good money for an hour's work shooting our photos." Or my favorite..."I'm looking for a photographer who doesn't cost an arm and a leg." Sometimes people don't care, but most of the time people just don't realize the amount of time (and money) photographers put into each session.  On average, I spend 15 hours away from my family for a typical client photo session. Sometimes I spend even more—rarely less.
Just a note...I don't intend for this to sound like a rant. I love my job, and I love my clients. I started this blog post as a bit of self-reflection to check myself and my business.
Let's be honest...photographs are a timeless treasure. There is no way to put a value on a great family portrait, especially after kids are grown or after losing a loved one who appears in that photograph. Portraits really are priceless to my clients. But, if I had to assign a value to a photo session based on my costs of producing that portrait, the hours and cost really stack up. So...I put together this visual that shows how a typical client's investment in my work breaks down...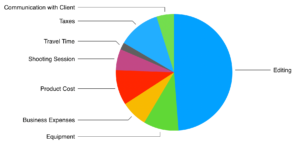 This chart reflects how I run my business and may not be accurate for the next photographer.
What's the most obvious takeaway? EDITING. Almost half of the entire process (and cost) is wrapped up in editing.
The good news is that I love editing! I hand retouch every face in every photo that leaves my studio. I love making my clients feel confident about their photos and editing is a big piece of that puzzle. Happy clients are a huge perk of my job!
Some photographers do less editing, but some do even more. Bottom line...we all spend a gazillion hours retouching, "photoshopping", and getting creative with the process. Editing is also THE. MOST. IMPORTANT. step in the entire session, IMHO. I can bring a fancy camera and thousands of dollars in lenses to every session, but the real magic happens during editing. It's how we "pop" the colors, remove that unsightly garbage can in the background, enhance the lighting, and fix Johnny's smile when he didn't bring a happy face to the session. This much editing and attention to detail takes hours.
"I'm editing" is a phrase my kids are used to hearing from me when they get home from school. Sometimes my toddler has to entertain herself for a while because I'm trying to get caught up with editing. Sometimes I turn down an offer from my husband to watch TV together because I'm busy editing after the kids go to bed. I'm blessed with a supportive husband, resilient kids, and parents who never stop helping me. They all support me so I can keep going. 
Beyond the time I put into each session, I'm also proud to run a legitimate business with taxes and insurance and other liabilities. My overhead is very low, which means less cost for my clients. I also reinvest a lot of money into upgrading my equipment, education, and new props. It takes a lot to keep a photography business going.
If you've read this deep into this blog post, now you have a better understanding of a few reasons why great photography isn't cheap. The next time you are booking a photographer, you'll have a better idea about what your money is buying. And you can also see why photographers who charge $75 for dozens of photos can't sustain a business (let alone provide for their family) that way. (And no judgement there...I was at that price once myself.)
I'm so grateful for my awesome clients who keep my calendar full and keep my business going. But most importantly, I'm blessed with clients who value my art and value my time.
Thanks for hearing me out! Now I'm back to editing...