Products
What good is a beautiful photo unless it can be enjoyed? My studio offers a fun assortment of heirloom-quality products to show off your beautiful smile. I am constantly adding fun new products to my lineup to bring my clients an exciting mix of classic art and modern displays. A full menu of options is available during a new client's consultation.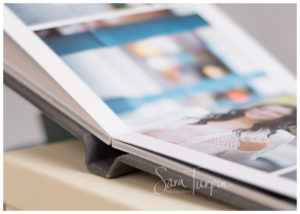 Albums
Albums offer the perfect way to enjoy a variety of photos from your session all in once place…perfect on a coffee table or bookshelf. Our albums feature a "lay flat" construction which means photos look amazing spread across two pages. Photo detail and color is preserved beautifully with an heirloom quality printing process over matte press paper. Cover options include linen and leather in an assortment of colors. Multiple sizes are available.

Photo Blocks
Photo blocks feature six sides to showcase a variety of photos from your session. We custom design each photo block to fit the style of the session. They are as durable as they are adorable, with a protective hard coating to keep scuffs away as long as possible. Photo blocks are perfect for newborn sessions and also make a great gift after a family session or senior session. Available in two sizes.
Canvas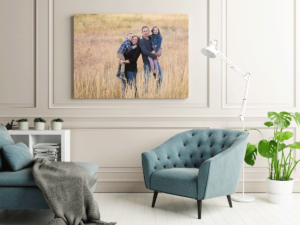 Canvas is classy…plain and simple. Canvas wall art makes the perfect focal point in any space. Photos are printed on high quality material with superb coloring and a beautiful texture. Each piece is wrapped around a frame with a fully enclosed back. Our canvas pieces are durable and ready to impress. Multiple sizes are available with discounts offered for canvas groupings.
Acrylic Blocks
These are my personal favorite for a unique, yet personal gift. Acrylic blocks are mesmerizing and add a fun visual effect to any image. They sit upright on a shelf, dresser, or desk and are sure to draw attention to your favorite photos. Available in multiple sizes.
Bookshelf Metals
The bookshelf metals are perfect for a bookshelf, coffee table or desk. They are curved just right to be freestanding and make a unique photo gift. Available in multiple sizes.
Folio Boxes
The folio boxes are as cute as they are versatile. Open the beautiful cover to reveal a stack of loose prints (matted or mounted). Since the prints are loose, they can easily be swapped out as often as you want to display on an included easel.